Features
CityEmail is dedicated to bringing the most powerful yet easy-to-use email services for you and for your clients and/or employees. With many different packages to choose from, we can deal with all your needs including branding options and management tools. Every mailbox is protected by MagicMail's anti-spam and anti-virus technology and your email is accessible anywhere in the world.
Mailbox Features
The basic package includes all of the following features for your customers or employees: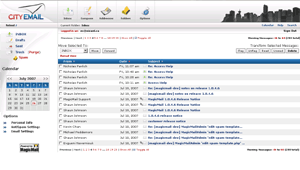 Min. of 1GB Storage
Advanced Anti-Spam & Anti-Virus Protection
Quota Reporting
POP, IMAP & WebMail
Secure SMTP (TLS)
Ability to Manage Your Own Information

Change Passwords
Email Forwarding
Vacation Messages
Auto-Responders
Personal Address Book
Personal Calendar

Full Quarantine Management
Spam Statistics & Logging
Management Features
As the account manager for your domain(s), you have the ability to perform the following tasks, even with our most basic packages: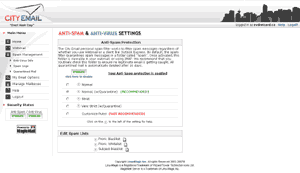 Easily Add/Remove Users
Unlimited Email Aliases
Change User Information

Personal Information
Memos & Notes
Change Passwords

Manage All Email Forwarding
Perform Reporting On Users
Monthly Usage Reports
Branding Options
Non-Branded
Basic Branded
Premium Branded
Complete Branded
Virtual Server
Plus many other features. For a complete list of features and to find out which mailbox packages will suit your organization please contact our sales office by phone at (604) 682-0020, or reach us by email at sales@cityemail.com.